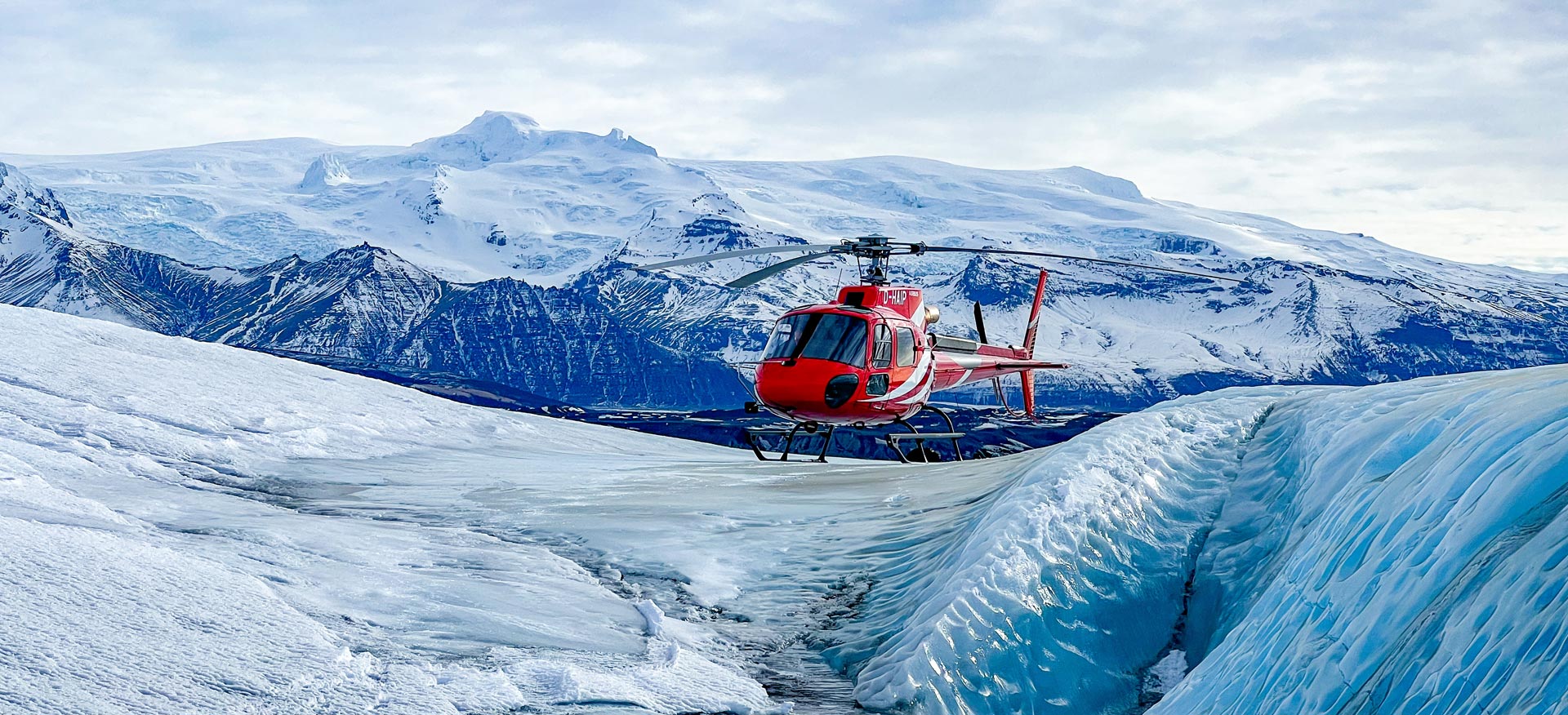 Ice Cave & Helicopter Tour
from Skaftafell
On arrival at Skaftafell Terminal we'll be ready to greet you at our reception, your pilot and professional glacier guide will then go over the flight route and perform a safety briefing before we head out to the helicopter. 
We then embark on an exhilarating scenic helicopter ride from our airfield over the sprawling glacier, so you can get to know it from above before seeing it from the inside. No need for a grueling hike to reach the glacier, simply sit back in comfort and take in the stunning views as the helicopter does the work. Our destination is Skeiðarárjökull glacier, part of Europe's biggest glacier Vatnajökull. Upon landing, we will deboard and take a short walk from our landing spot to the mouth of our glacier ice cave.
The cave opening leads us into the glacier tunnel, where we can easily stand upright as your guide takes you further along the frozen corridor. The sparkling crystalline colors of sapphire blue are embossed with vivid shapes and patterns which look like icy scales. The serenity and sense of wonder while being inside the glacier is something hard to describe in words, although we're trying our best. Once the ice cave expedition is over, the helicopter will bring you back to Skaftafell Terminal.  This tour is ideal for photographers and those who are looking for more secluded ice caves in Iceland.
Base layer (shirt and long johns) synthetic or wool, mid layer such as good sweater, wool or fleece.
Mid layer such as fleece jacket, thick wool garment, prima-loft jacket or similar. Second mid layer can be added for colder days. Hiking pants, fleece or soft shell or similar.
Waterproof breathable jacket like Gore-Tex jacket and pants or similar.
Good thermal headwear and gloves.
Socks, synthetic or wool.
Good hiking boots are essential. The boots should be high enough to provide good ankle support.
Regular street shoes or sneakers are not appropriate shoe wear for this trip!
Pilot-guided helicopter tour with noise-canceling headsets during the helicopter ride.
All necessary glacier gear such as helmet, crampons provided by ICEGUIDE. Your guide will evaluate each time which gear is necessary.
Free parking at Skaftafell Terminal – Tour Center
Please note
Age limit: 14 years old
Minimum requirement: 4 person minimum passenger requirement for this tour to operate. Fewer people can book this tour and we will do our best to combine your with other bookings.
We strongly recommend participants to go over our list of equipment and be well prepared for the tour. If participants are not adequately prepared or dressed according to the weather conditions, Iceguide reserves the right to refuse them to participate in the tour to ensure safety.
From time to time the ice caves change. They can even change within the season. For this reason it's good not to expect to see them exactly as they are in the pictures. Many circumstances can be different, like for example the weather, the light or their size, which can change the whole picture. They are always beautiful and unique just the way they are!
Helicopter landings are only done when deemed safe by our pilots.
BOOKING
Please fill all details below to complete your booking.