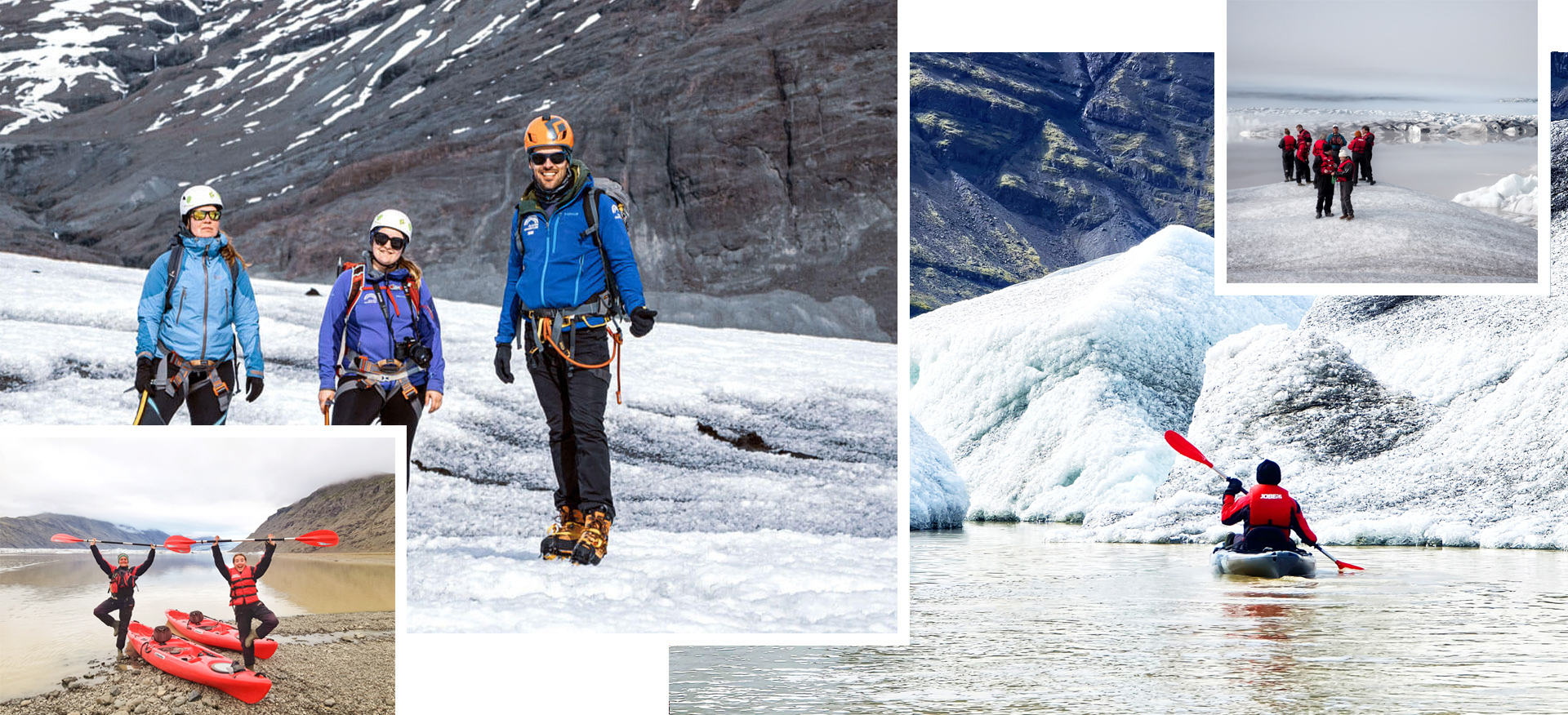 Glacier Unique: Kayak Tour & Glacier Walk
Vatnajökull / Heinabergslón
Availability: May 15th – September 15th
This unique combo tour allows you to experience the wonders of Vatnajökull National Park,  recommended for everyone that wants to see & experience the glacier from different points of view. Embark on a Kayak tour at Heinabergslón Glacier Lagoon located off the beaten path and go on a glacier walk at Breiðarmerkurjökull Glacier an outlet glacier from Vatnajökull.
The tours are led by local and professional guides to give you a safe and unforgettable experience in the breathtaking Vatnajökull region. The tours start in two separate locations, you will need to drive between locations
PLEASE NOTE:
If you book the 09:00 AM Combo Tour you will be booked at 09:00 AM Heinabergslón Lagoon Kayak Tour with IceGuide and 14:00 on the Vatnajökull Glacier Walk with Glacier Adventure.

If you book the 14:00 PM Combo Tour, you will be booked on the 09:00 AM Vatnajökull Glacier Walk with Glacier Adventure and 14:00  Heinabergslón Lagoon Kayak Tour with IceGuide.
No matter where you're going in Iceland, it's important to choose the right clothing and dress according to weather. We strongly recommend dressing in layers so it is easy to take off or put on layers depending on weather.
Good waterproof shoes with ankle support (hiking boots )
Thermal underwear
Wool/fleece thermal mid-layer
Hiking pants
Waterproof pants & jacket
Gloves & hat
Socks (wool or synthetic)
Sunglasses
Small backpack
Reusable Water-bottle
Food or Snack for a 6 hour tour (sandwich, chocolate bar, etc.)
Camera (optional)
Trip difficulty: Moderate
We strongly recommend participants to go over our list of equipment and be well prepaired for the tour. If participants are not adequately prepared or dressed according to the weather conditions, Iceguide reserves the right to refuse them to participate in the tour to ensure safety.
For further information on gear and clothing see FAQ
Total duration of the tour: 8 hours
Disclaimer:All tours are taken at the responsibility of participants. Glacier Adventure does not take responsibility for accidents which are caused by their customers or can be traced to their own actions.
✕
Please arrive at the tour meeting points 20 minutes prior to the tour departure
Reasonable fitness is required for the Kayak tour. Oversized people can expect having problems fitting the drysuits, and therefore unfortunately not being able to participate
For safety reasons participants cannot exceed 120 kg (270 lbs) in weight for single kayaks or 180 kg (395lbs) combined weight for tandem kayaks.
Helmet
Crampons
Harness
Ice axe
Kayak & Kayak paddle
Drysuit
Safety vest
Ice axe
BOOKING
Please fill all details below to complete your booking.